Non-cash Adjustment Program
What is a Non-cash Adjustment Program?
Non-cash Adjustment is a perfect legal way to share your credit card processing fees with your customers. With a non-cash adjustment payment program in place, you are actually adding the additional surcharge for the customers who pay via card, whereas if the customer wants to pay via cash, that surcharge value will be non-applicable.
How to set up a Non-cash Adjustment for a location?
The non-cash adjustment program can be set up at the location level from the merchant portal by following a few simple steps. The first step is to ensure you have enabled the non-cash adjustment configuration from the merchant portal.
Enable non-cash adjustment

Visit the merchant portal and go to the

Edit Accounts

section.

Tap the

Settings

tab.

Click the

Program

tab underneath as shown in the screenshot.

Tap the

Edit

button and select the

Non-Cash Adjustment

program from the Program drop-down.

Put the program label that you want to see on the receipt.

Enter the value and select the value type (amt or %).

In the end, make sure to click the

Inherit Program to Stations

checkbox to push the selected program to all the stations level. Please take a note, the program will not be pushed to a station in which we have selected the "

no program

" in the payment gateway.

Once done, please do not forget to click the

Save

button.
Applying non-cash adjustment to an order
The same payment program will be applicable on your device.

Here we have applied the flat non-cash adjustment value of $0.02, so the customer will have to pay an additional surcharge of $0.02 when paying via card.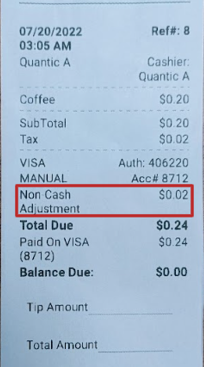 After a successful payment, the Non-cash adjustment amount will be displayed on the receipt.